Join our team!
Welcome to
Bortek Shop is your resource that you can count on for all things chemicals, detergents, equipment, cleaning & janitorial supplies, aftermarket & OEM parts & Accessories, and all kinds of tools available for you so you can get the job done. Here, we've made it simple to purchase and manage your orders. You can create lists, see recommended products, and find the perfect solution for your specific situation. You have access to our entire inventory and are able to place orders as a guest, online customer, or set up a corporate account.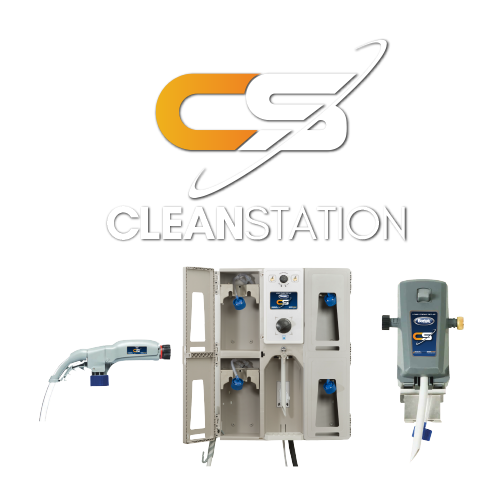 Perfect Dilution, Every Time -- Our CleanStation® Program makes switching between chemicals and achieving the right dilution a breeze. Different models can store up to four different chemicals and connect directly to a water line for even more ease of use. Bortek offers a special line of chemicals that are engineered specifically to help you clean virtually any environment, faster.

SHOP NOW
Enjoy a multitude of hand-picked hand & body cleaning products with our Hygiene Program. Our System provides you with an easy-to-use and easy-to-refill dispenser that uses every ounce of solution in the pouch. With each dispenser, you'll also receive a product-specific decal for the front of the dispenser so you'll always know what's inside.

SHOP NOW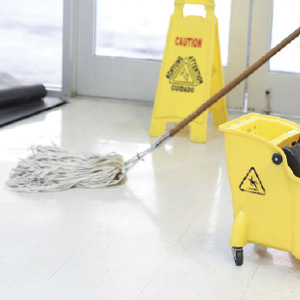 FACILITY CLEANING
An effective cleaning program helps promote a productive & safe working environment for your fellow employees and customers alike! This is where we excel and we're excited to help you achieve the level of clean you deserve. We'll work with you to provide you with the cleaning detergents, floor care & other facility cleaning equipment, along with all the vital janitorial supplies you need to maintain your facility's level of cleanliness!
SHOP NOW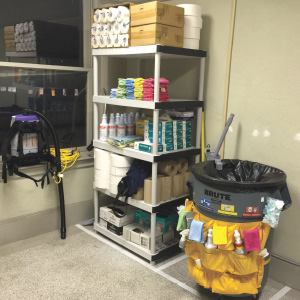 RESTROOM SUPPLIES
Warehouses, food & bev facilities, auto dealerships, office buildings, department stores, universities, hospitals - every facility needs clean and well-stocked bathrooms. We provide every item you need to maintain pristine restrooms, including toilet bowl cleaners, lime remover, air fresheners, hand soap, paper products, dispensers, and the cleaning tools & equipment you need! This is one area that should be easy to maintain.
SHOP NOW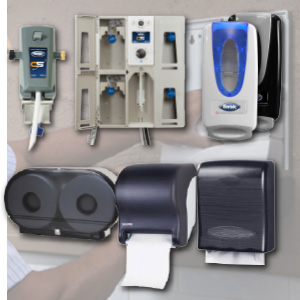 We have an extensive selection of dispenser programs available to you! Hand soaps, cleaning chemical dilution stations, roll and folded paper towels, toilet tissue rolls, and more are all ready to be easily replenshed and make your cleaning and janitorial operations run that much smoother. Be sure to ask about our dispenser installation services where we install dispensers at your facility and, if needed, even tear down your old, ineffective ones!
SHOP CHEMICAL, HAND SOAP,
PAPER TOWEL,
& TOILET TISSUE DISPENSERS NOW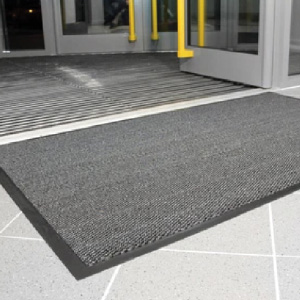 FLOOR MATTING
Your floor mats are often unsung heroes of any facility. They help remove foot traffic's dirt and debris before they make it into your building. An effective layout is always a three-tier floor matting system. At each entrance, have a rough floor mat, mid-grade floor mat, followed by a softer floor mat, in that order. That way most, if not all, foot traffic will come in with clean boots and shoes & you'll save time and money on avoiding cleanup!
SHOP NOW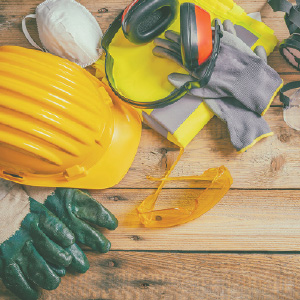 SAFETY PPE & EQUIPMENT
There's no shortage of effort made towards ensuring your team, business partners, and customers are safe during your daily operation. Vinyl, latex, & knit gloves, ear plugs, eye protection, hard hats, aprons, hair nets & bouffant caps, reflective vests-- the list goes on and on. Whether it's a regulated health & wellness standard or company policy, it's always recommended to have these items on hand to ensure the safety of your team.
SHOP NOW
Best Sellers

Manufacturers have made substantial improvements to all models in recent years from diesel, propane, gasoline and especially electric sweepers and scrubbers. Cleaning equipment is a very specialized category and electric machines have... [Click Here to Read More]

What exactly are "wearables?" Wearables on your machine include things like brooms, brushes, pads, squeegees, belts, filters, oil, casters, etc. Essentially, any part of the machine that contribute to the operation of your machine and tend to wear out over time. Hence the name! These parts wear down in an... [Click Here to Read More]