We deal in a variety of hydro excavators and equipment for sewer cleaning and sewer inspection. Our used items may include sewer pipe crawlers and cameras, jetters, vacuum trucks, or hydro excavator vehicles.
Bortek Reconditioned Sewer Equipment & Hydro Excavators are inspected, tested, and reconditioned by factory-trained Bortek Service Technicians. Worn components are replaced using only quality parts to ensure maximum performance. The unit is then cleaned and ready to go!
Since our inventory of used equipment varies over time, please let us know if there's something specific you're looking for!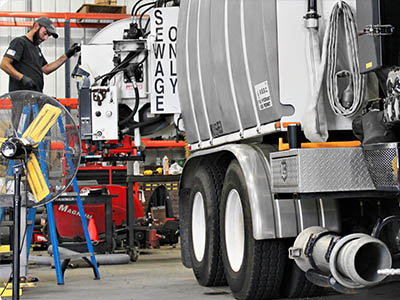 Shop Used Jet/Vac Trucks
For Sewer Cleaning & Excavation
---

Aquatech B10-1450 Jet/Vac Truck
The Aquatech B10 1450 is a combination jet/vac sewer truck which is also capable of hydro excavation. It has a rear-mounted reel, which significantly reduces heat and noise for the operator, makes it easy to reach any work location, and also significantly improves visibility while driving. Its 27″ Hg Hivon 840 blower is the most powerful vacuum in the industry.
This is a rental unit for sale and is in great condition.
X-Vac X-8 Hydro Excavator
The tandem-axle X-8 Hydro Excavator offers the highest legal payload on the market with a surprisingly compact footprint. Smaller than traditional hydro excavators, the X-8 still has the power to complete projects with impressive efficiency and effectiveness.
This is a rental unit for sale and is in great condition.
---
Recently Added
Check out some of the latest machines available!